Hanoi and its crazy traffic
Hanoi, with its seven million people and five million motorbikes, is a great place to spend a few days and get acclimatized to the busy life and culture. Hard to believe that back in the early 1990s there were practically no motorbikes, but only bicycles and public buses. Now everyone seems to have a scooter and nothing is too big, odd or dangerous to be transported on a scooter. Vietnamese will transport their entire home if they can. Couples with two children on one scooter is a common sight and we have seen everything from live pigs to long timbers to boxes that would be too big to fit in an SUV. Our Ha Long tour guide even showed us a picture of someone carrying a buffalo (yes you heard it) AND a fridge (?!)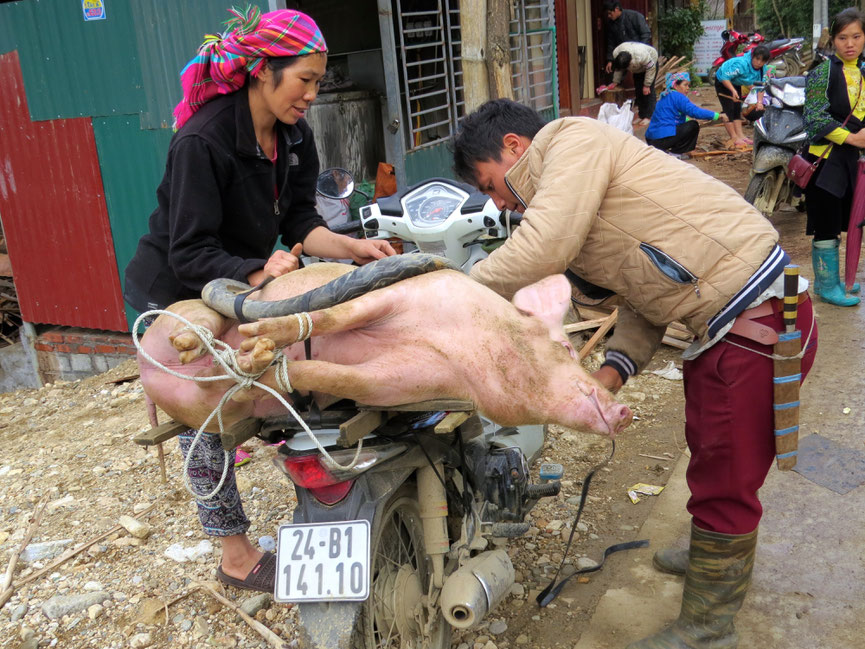 We found ourselves rather puzzled wanting to get from one side of a street to the other by foot. So many of these 5 million scooters are saturating the traffic flow that if you stand on the side of the street waiting for them to stop or for a hole, you may well be waiting for a loooong time. So the solution (and advice in any guidebook) is to walk at a slowly (but surely) pace across and magically (so far) traffic flows flawlessly around you. Be wary, pedestrians are on the bottom of the food chain on the road. 
Traffic law is practically non-existent. 3 rules of the road that we have witnessed:
#1. There are no rules. Forget everything you know about official road rules, none of them seem to be practiced here. It's not uncommon (frequent) to see someone driving down a one-way street going the wrong way.
#2. Traffic lights. Vietnamese roads do have traffic lights, they seem to be more 'indicative' than mandatory. Might even be dangerous to stop as someone might bump you from behind. But if you go, someone might bump you from the side. So the color of the light does not matter much, the key is to slow down, look around and to go with the flow.
#3. Passengers and helmet. There is no limit to your passenger count so the smaller you are, the better. Your load is not limited to people either; chickens, pigs, buffalo, anything that can be tied and rode. Interestingly (or sadly), although mandatory, the helmet is not enforced, and you will witness a lot of cases where a parent will prefer to protect their child's lungs with a mask over their head (as they often ride bare head - while playing on smartphones!).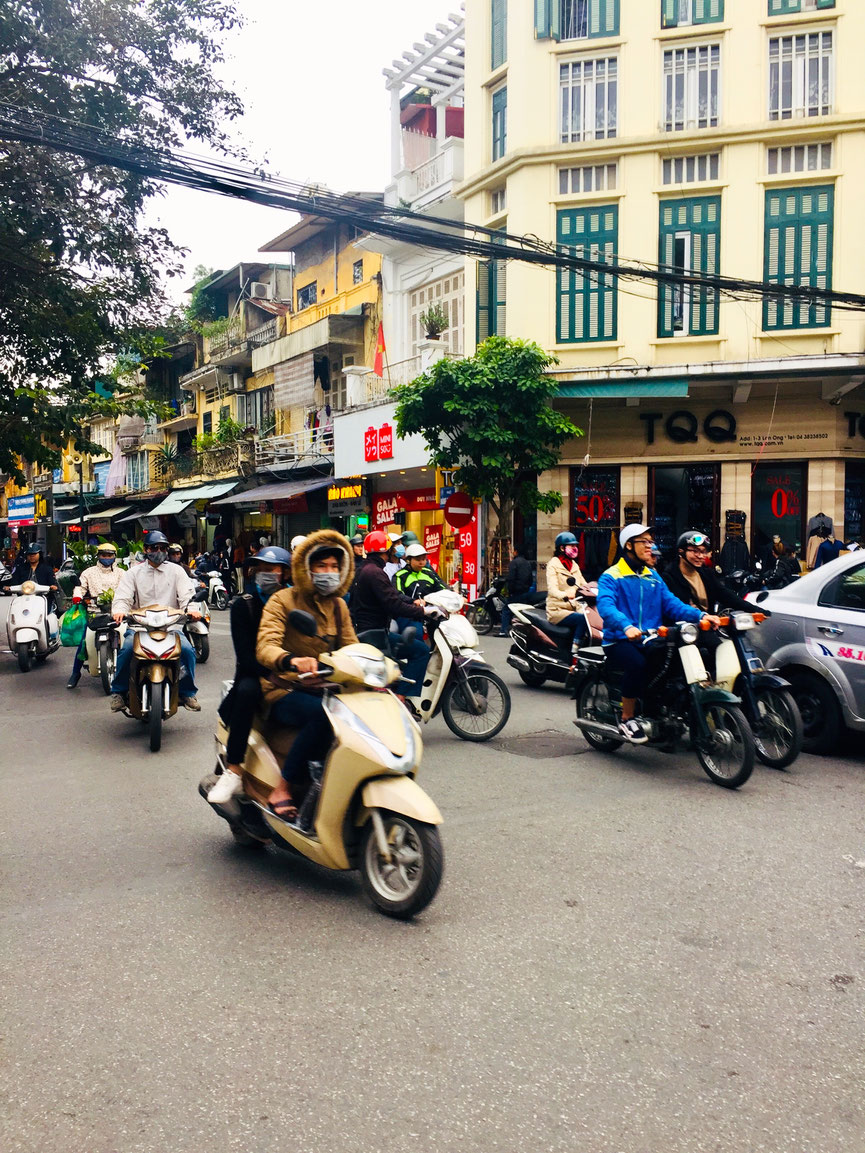 ---
"Travel early and travel often. Live abroad, if you can. Understand cultures other than your own. As your understanding of other cultures increases, your understanding of yourself and your own culture will increase exponentially"
Tom Freston
---
One of the main attractions of Vietnam is the food. Hanoi is no exception. From day one we dared to take a seat on the minuscule plastic chairs in the street food restaurants and try their unique meal. We love the traditional pho (flat rice noodle soup) or the bun (thin rice noodle soup), both served with either chicken, beef or fish (that locals eat at breakfast too). We also love the egg coffee! Tastes like a tiramisu! The cherry on the cake is that tasty experience is also very cheap (lunch for about USD 1.50)
---
The Halong Bay dragons
After a few days in Hanoi, getting into the city's heartbeat, we took our first tour to the spectacular and famous Halong Bay and neighboring and similar picturesque Lan Ha Bay. The bay is a UNESCO World Heritage site with its thousands of limestone islands and emerald waters, named after "Descending Dragon", a metaphor that resembles the backbends of a landing dragon (we will give here only one version of the legend, to not confuse our readers). 
We spent the first day and night on our boat, we kayaked in coves and hiked in caves. There is something special about paddling through grottoes and entering lagoons in such humble embarkation. The area has been shooting location for quite some movies and this for a very good reason.
Day two we rode a bicycle on Cat Ba Island, climbed a small mount in the jungle and kayaked through floating fishing villages. The fishermen and their families live a fully floating life with school boats transporting the children to and from school. 
---
Sapa trekking in the rice field terraces
Next destination: northwestern part of Vietnam, close to the border of China. Getting there required a night train (eight hours) to Lao Cai and a bus (one hour drive) in the early morning to the town of Sapa, from where most of the activities begin. 
Night trains have 4-people sleeping cabins, and often cockroaches to share company. Going to Sapa, we met a young Danish couple and on the way back, we shared the cabin with a Vietnamese couple from Hanoi. 
Sapa is much bigger and more touristy than we ever thought. 
We did a two-day hike in the hilly surroundings, walking up and down for around 26 kilometers in total. The altitude is around 1,600 meter (with the highest peak going above 3,000 meters), so we expected some chilly weather. It had been raining a lot the days before, so there was plenty of mud. Well equipped with rain boots, we were blessed with amazing weather, despite the mud that did not fully dried up. And with just a small group (three Italians, our guide and us) we had the chance to get close to some of the locals in the villages.
A unique experience for us was the homestay overnight deep in the countryside. This gave us the chance to witness their daily life, see how the whole family participated in the household – the two boys preparing our chicken for the meal and one daughter organizing our cooking class. We prepared some spring rolls for dinner, some looking better than others! 
The dinner took place in the kitchen, where the heat and light from the open fire created a 'hygge' feeling and where the whole group (parents, four children, grandparents, a friends couple and us) could gather to enjoy the delicious freshly prepared food. Photos do not make justice, sorry.
As we hiked, we met a lot of cute dogs (puppies) but hardly any old dogs and especially no street dogs. We then understood why: they eat them!! It is a part of their culture to eat dogs (and cats by the way) here. Hmm, tough on one hand, when we think how dogs have achieved such a high status as a family member in our society, but on the other hand, the dogs seemed to live a very good life (much better than those street dogs fighting and starving in Mauritius). As long as they manage to kill them 'properly' and that the animals don´t suffer, then it has to be acceptable. Our bet is that the average animal in Vietnam (pig, cow, chicken, dog etc.) lives a happier life than the average animal in Europe, with our horrible and unsustainable intensive farming practices.
Back in Hanoi we now know that we need to avoid thit cho in the street food restaurants as this means « dog meat ».
Wrapping up Hanoi and the northern part of Vietnam, here are a few recommendations, should you plan to visit the area :
Stay in the Old Quarter. There are plenty of hotels with good offers. Use online reviews to find the best offers. From there you can easily walk to other areas like the French Quarter and around the central lake, where the Vietnamese exercise in the morning (tai chi, dancing classes, badminton, and stretching).
Use a trusted agency to arrange your trips. We used Vega Travel (vegatravel.vn) for our trips to Halong Bay and Sapa, as they were recommended in « Lonely Planet ». They turned out to be very professional and you definitely get good value for your money. Their guides are all very competent, English speaking and nice. And they seem to get a bit off the beaten track so that you can get a better glimpse of the local life.
Eat Street Food at least once a day. Sit down on the plastic chairs and take what they serve. Trust your stomach and smile. And it is good for your budget!
Slowly we can see an end to this visit to Vietnam. In less than a week, we plan to cross the border to Laos and spend a couple of weeks there. But we will come back to Vietnam in just a couple of months, as Masja and Marc (Michaels children) are joining for two weeks of traveling the southern part of the country. We cannot wait! 
---
"No culture can live if it attempts to be exclusive"
Mahatma Gandhi